634
WROCŁAW. Views of the city in 17 sections: 1) center general view of the city - no title; ...
WROCŁAW. Views of the city in 17 sections: 1) center general view of the city - untitled; 2) Market Square and Great City Scales - PARADEPLATZ und GROSSE WAAGE; 3) City Hall - RATHHAUS; 4) Old Stock Exchange - BOERSENGEBAUDE; 5) Cathedral seen from the north - DOM von der NORDSEITE; 6) Cathedral from the chancel side - RUCKSEITE d. DOM KIRCHE; 7) St. Elisabeth's Church - St. ELISABETH KIRCHE; 8) St. Bonifriar's Monastery - BARMHERZIGEN KLOST.; 9) monument to Friedrich Bogislav von Tauenzien - TAUENZIENS DENKMAL; 10) Royal Bridge - EISERNE BRÜCKE; 11) Sand Island - SANDSTIFT; 12) University - UNIVERSITAET; 13) Cathedral and Collegiate Church of the Holy Cross - DOM und KREUTZKIRCHE; 14) Church of St. Vincent - OBERLANDESGER. und VINCENT-KIR.; 15) the Hatzfelds' classicist palace (later the Wroclaw District Administration) - REGIERUNG.; 16) St. Joseph's Care Church (until 1946 St. Ursula and Eleven Thousand Virgins) - EILFTAUS. IUNGFR. KIRCHE; 17) St. Mary Magdalene Church - St. MARIA MAGD. KIRCHE; drawing from nature by M. Grossmann, letter by C. Mattis, Kowary, published by A. Karsch, Wroclaw, ca. 1840; lith. color, st. bdb., bottom trace of tear, frame and glass; dimensions clear passe-partout 358x280 mm, dimensions with frame 615x490 mm; BRESLAU, seine merKwürdigsten Gebaeude und Kirchen.
Auction
XXXIII Aukcja Antykwariatu Wu-eL
Date
14 June, 19:00 CEST/Warsaw
Session 2
15 June, 19:00 CEST/Warsaw
Bid now
Log in to bid
Do you want to bid? Log in and subscribe to the auction.
Log in
---
---
Offers accepted until: 15/06 19:00 CEST/Warsaw
Live bidding: , 14/06 19:00 CEST/Warsaw
Set the price of the item immediately. Make an offer if you want to bid on preauction. Note: Offers can not be cancelled!
Add limit
Log in to bid
Do you want to bid? Log in and subscribe to the auction.
Log in
---
---
Set your limit for this item. At the time of the live auction, this item will be automatically bid on your behalf, up to the amount specified. Limit is a hidden offer. It's value is not known to other users. Limits can be modified and submitted by bid sheet.
Send a message to auction house
Do you have questions about this lot or about bidding?
Views: 10 | Favourites: 1
Bid increments
1
>
5
50
>
10
200
>
20
500
>
50
2 000
>
100
5 000
>
200
10 000
>
500
50 000
>
1 000
∞
Terms and Conditions
1. Ceny podane w katalogu są cenami wywoławczymi. Do cen wylicytowanych dolicza się 10%, a w przypadku sprzedaży poaukcyjnej (tj. 7 dni po zakończeniu aukcji) 15%.
2. Udział w aukcji można wziąć w następujący sposób:
a. drogą pocztową, wysyłając stosowne zamówienie,
b. drogą mailową,
c. licytując online za pośrednictwem platformy aukcyjnej OneBid,
d. telefonicznie, wysyłając stosownie zgłoszenie.
3. W celu uczestnictwa w aukcji należy podać dane osobowe, dane adresowe oraz kontaktowy numer telefonu.
4. W wypadku zgłoszenia tego samego limitu cenowego, wygrywa oferta, która napłynęła pierwsza.
5. Wysokość limitów oraz dane osób i instytucji biorących udział w aukcji drogą korespondencyjną są informacjami poufnymi.
6. Prawo pierwokupu ma Biblioteka Narodowa, Biblioteka Jagiellońska oraz muzea rejestrowane po cenach wylicytowanych powiększonych o opłatę organizacyjną wymienioną wyżej.
7. Nabywca może odstąpić od umowy kupna w terminie dwóch tygodni od zakończenia aukcji tylko w przypadku, gdy opis obiektu w sposób ewidentny odbiega od stanu faktycznego.
8. Zatwierdzenie przez licytującego ostatecznej, wylicytowanej ceny stanowi zawarcie umowy kupna-sprzedaży. Prawo własności przechodzi na kupującego w momencie dokonania wpłaty całości wylicytowanej kwoty.
9. Nabywca zobowiązany jest wykupić wylicytowane obiekty w ciągu 10 dni od zakończenia aukcji. Od tego czasu naliczane będą odsetki ustawowe oraz opłata magazynowa wynosząca 1 zł dziennie od każdego wylicytowanego obiektu.
10. Zakupione obiekty wysyłane są przesyłkami kurierskimi, po doliczeniu opłat związanych z wysyłką. Dla instytucji następuje to bez obowiązku przedpłaty, dla osób fizycznych po przedpłacie lub za zaliczeniem pocztowym.
11. Opisy oraz zdjęcia obiektów są objęte ochroną przewidzianą przez przepisy prawa autorskiego. Korzystanie z nich może odbywać się wyłącznie za zgodą Antykwariatu Wu-eL.
12. Prowadzący licytację ma prawo do wycofania obiektu z aukcji przed rozpoczęciem licytacji bez podania przyczyny.
13. Prowadzący ma prawo zarządzić przerwę w aukcji, w tym również nieprzewidzianą w jej harmonogramie.
14. Osoby przekazujące swoje dane w celu wzięcia udziału w aukcji wyrażają zgodę na przetwarzanie swoich danych osobowych zgodnie z obowiązującym stanem prawnym. Licytujący ma prawo dostępu do swoich danych osobowych oraz do dokonywania w nich poprawek zgodnie z obowiązującym stanem prawnym. Administratorem danych osobowych jest: ANTYKWARIAT WU-EL DR WOJCIECH LIZAK, NIP: 8511807452, ul. św. Wojciecha 1, 70-410 Szczecin.
15. Antykwariat nie ponosi odpowiedzialności za ukryte wady fizyczne i prawne licytowanych pozycji.
16. Termin na wysyłkę obiektów wynosi 2 tygodnie od momentu wpłaty.
17. Postąpienia w licytacji wynoszą:
a. do 50 zł – o 5 zł,
b. od 50 zł – o 10 zł,
c. od 200 zł – o 20 zł,
d. od 500 zł – o 50 zł,
e. od 2000 zł – o 100 zł,
f. od 5000 zł – o 200 zł,
g. od 10 000 – o 500 zł,
h. od 50 000 – o 1000 zł.
18. Przystąpienie do aukcji jest równoznaczne akceptacją powyższego regulaminu.
About the Auction
Oferta zawiera 923 pozycji w działach: Powstanie styczniowe w oczach Zachodu; Syberia; I wojna światowa; Legiony; Wojna polsko-bolszewicka; Piłsudczana; Powstania, plebiscyty; Loterie i kartki żywnościowe; Wojsko polskie w II RP; Życie polityczne w II RP; Międzynarodowe Targi Poznańskie; II wojna światowa; Emigracja; Marynistyka; Ogrody, lasy, maszyny; Z historii medycyny; Fotografie; Dokumenty; Gdańsk; Chimera; Starodruki; Genealogia i heraldyka; Z historii byłych Prus Książęcych; Grafika artystyczna; Malarstwo; Mieszkańcy I Rzeczypospolitej i Śląska w renesansowej grafice Josta Ammana; Etnografia, moda; Portrety; Judaica; Grafika "Solidarności"; Foldery filmowe i teatralne; Polska szkoła plakatu; Historia zbawienia ludzkości w tablicach autorstwa Alfreda Żmudy; Teki i albumy graficzne; Plany i widoki miast; Napoleonica; Wojny śląskie, wojna siedmioletnia; Kartografia; Atlasy; Z ostatniej chwili.

About the Seller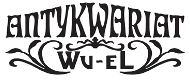 Contact
Antykwariat Wu-eL
ul. św. Wojciecha 1 / U3
70-410 Szczecin