Oskar Zięta/Oskar Zieta, Oskar Zięta/Oskar Zieta, Oko 150 Sapphire ̶4̶8̶8̶0̶0̶ ̶z̶ł̶ ̶ ̶ 42900 zł brutto. 9200€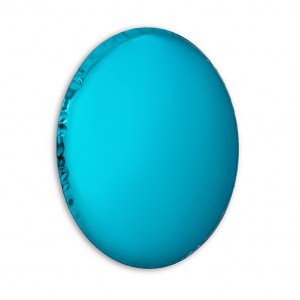 ---
Oko 150 Emarald
Ø 150cm
D: 6 cm

Oko 150 Emarald ̶4̶8̶8̶0̶0̶ ̶z̶ł̶ ̶ ̶ 42900 zł brutto. 9200€ with vat


CZAS REALIZACJI/ LEAD TIME: Najszybszy na rynku do 4 tygodni/ The fastest on the market MAX 4 WEEKS IF NOT IN STOCK,
Trusted Seller: Galeria BB Founder of the European Glass Festival

Oskar Zięta


Dyplom na Wydziale Budownictwa i Architektury Politechniki Szczecińskiej (obecnie Zachodniopomorski Uniwersytet Technologiczny w Szczecinie), 2000.

Stypendium Szwajcarskiego Instytutu Technologicznego ETH w Zurychu, 2000 – 2001. Od 2003 roku asystent naukowy na Wydziale Architektury, w katedrze CAAD (Computer Aided Architectural Design) ETH. W 2011 roku uzyskał na tej uczelni stopień doktora.

Od 2013 wykładowca w Katedrze Wzornictwa Uniwersytetu Humanistycznospołecznego SWPS, School of Form, w Poznaniu.

Założyciel i prezes firmy Zieta Prozessdesign, 2010.

Jeden z najwybitniejszych i uznanych w świecie polskich projektantów. Technolog i wynalazca, twórca FiDU – innowacyjnej techniki modelowania przestrzennego blachy przy pomocy sprężonego powietrza lub wody. Wykorzystuje ją w projektowaniu efektownych mebli i innych elementów wyposażenia wnętrza, oraz wielkoformatowych rzeźb, m.in. : NAWA – Wyspa Daliowa, Ostrów Tumski, Wrocław, WIR – Galeria Północna, Warszawa. Zaprojektowany przez niego taboret Plopp, 2008, znajduje się w stałej kolekcji Centrum Pompidou w Paryżu jako jedno z dwunastu krzeseł, które zrewolucjonizowały współczesny design..

Laureat licznych nagród, m.in.: Design Preis Schweiz, 2008; Red Dot Design Award, 2008; Dobry Wzór, 2009; Materialica Design Award, 2009; Nagroda Niemieckiej Rady Wzornictwa, 2009; Audi Mentor Prize by A&W, 2011.

Udział w licznych wystawach indywidualnych i zbiorowych, w kraju i zagranicą, m.in: DMY International Festival of Design in Berlin, Berlin, Niemcy, 2009; Prediction, Biennale Internationale Design Saint–Etienne, Saint–Etienne , Francja, 2010 ; Blow and Roll, Vitoria & Albert Museum, London Design Festival, Londyn, Wielka Brytania, 2010; Future Nomads, DMY International Festival of Design in Berlin, Berlin, Niemcy, 2013; Paris Design Week, Paryż, Francja, 2014; Milan Design Week, Mediolan, Włochy, 2014, 2015, 2016; Polskie Projekty Polscy Projektanci, Muzeum Miasta Gdyni, Gdynia, 2017; The International Interiors Show IMM Cologne, Kolonia, Niemcy, 2018; 10 lat Ploppa, Domoteka, Warszawa, 2018; Fuorisalone, Galleria Rossana Orlandi, Mediolan, Włochy, 2018.

Jego prace znajdują się w wielu kolekcjach muzealnych i prywatnych, m.in.: Centrum Pompidou w Paryżu; Museum für Gestaltung Zürich (Muzeum Wzornictwa), Zurych, Szwajcaria; Vitra Design Museum, Weil am Rhein, Niemcy; Museum of Modern Art (Muzeum Sztuki Nowoczesnej) MoMA, Nowy Jork, USA; Pinakothek der Moderne, Monachium, Niemcy.
Views: 20
---
See similar