510
GDAŃSK. view of the Crane by A. Bendrat, 1905, etching b/w.
GDAŃSK. view of the Crane by A. Bendrat, 1905, etchings b/w; condition bdb; sheet dimensions approx : 340x235mm; untitled .

Views: 22 | Favourites: 1
Bid increments
1
>
5
50
>
10
200
>
20
500
>
50
2 000
>
100
5 000
>
200
10 000
>
500
50 000
>
1 000
∞
Terms and Conditions
Ceny podane w katalogu są cenami wywoławczymi. Do cen wylicytowanych dolicza się 10%, a w przypadku sprzedaży poaukcyjnej 25%.

Udział w aukcji można wziąć w następujący sposób:

a. drogą pocztową, wysyłając stosowne zamówienie,
b. drogą mailową,
c. licytując online za pośrednictwem platformy aukcyjnej OneBid

W wypadku zgłoszenia tego samego limitu cenowego, wygrywa oferta, która napłynęła pierwsza.
Wysokość limitów oraz dane osób i instytucji biorących udział w aukcji drogą korespondencyjną są informacjami poufnymi.
Prawo pierwokupu ma Biblioteka Narodowa oraz Biblioteka Jagiellońska po cenach wylicytowanych powiększonych o opłatę organizacyjną wymienioną wyżej.
Nabywca może odstąpić od umowy kupna w terminie dwóch tygodni od zakończenia aukcji tylko w przypadku, gdy opis obiektu w sposób ewidentny odbiega od stanu faktycznego.
Zatwierdzenie przez licytującego ostatecznej, wylicytowanej ceny stanowi zawarcie umowy kupna-sprzedaży. Prawo własności przechodzi na kupującego w momencie dokonania wpłaty całości wylicytowanej kwoty.
Nabywca zobowiązany jest wykupić wylicytowane obiekty w ciągu 7 dni od zakończenia aukcji. Niewykupienie obiektu nie zwalnia nabywcy od pokrycia kosztów wynikłych z faktu wylicytowania obiektu, łącznie z roszczeniami dotychczasowego właściciela.
Zakupione obiekty wysyłane są przesyłkami kurierskimi, po doliczeniu opłat związanych z wysyłką. Dla instytucji następuje to bez obowiązku przedpłaty, dla osób fizycznych po przedpłacie lub za zaliczeniem pocztowym.
Opisy oraz zdjęcia obiektów są objęte ochroną przewidzianą przez przepisy prawa autorskiego. Korzystanie z nich może odbywać się wyłącznie za zgodą Antykwariatu Wu-eL.
Prowadzący licytację ma prawo do wycofania obiektu z aukcji przed rozpoczęciem licytacji bez podania przyczyny.
Osoby przekazujące swoje dane w celu wzięcia udziału w aukcji wyrażają zgodę na przetwarzanie swoich danych osobowych zgodnie z obowiązującym stanem prawnym. Licytujący ma prawo dostępu do swoich danych osobowych oraz do dokonywania w nich poprawek zgodnie z obowiązującym stanem prawnym. Administratorem danych osobowych jest: ANTYKWARIAT WU-EL DR WOJCIECH LIZAK, NIP: 8511807452, ul. św. Wojciecha 1, 70-410 Szczecin.
Postąpienia w licytacji wynoszą:

do 50 zł – o 5 zł,
od 50 zł – o 10 zł,
od 200 zł – o 20 zł,
od 500 zł – o 50 zł,
od 2000 zł – o 100 zł,
od 5000 zł – o 200 zł,
od 10 000 – o 500 zł,
od 50 000 – o 1000 zł.
About the Seller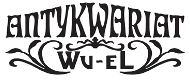 Contact
Antykwariat Wu-eL
ul. św. Wojciecha 1 / U3
70-410 Szczecin