232
Exlibris Hans Rudolf Burckhardt
Lot description
Ekslibris Hans Rudolf Burckhardt, f. 5 x 7cm
stan bardzo dobry

Auction
10 Aukcja Ciekawostek z Antykwariatu Bartoszko z Poznania - starodruki polskie, Mickiewicziana, Pepiniana, pamiątki historyczne, rękopisy
Date
02 September 2022 CEST/Warsaw
The item has not been sold and can still be available. If you want to buy, inquire about the possibility to buy and the current price.
Views: 17 | Favourites: 0
Date
02 September 2022 CEST/Warsaw
Lots bidding
All lots are listed to bid
Buyer's premium
10.00%
OneBid does not charge additional fees for the bidding.
Bid increments
1
>
10
200
>
20
500
>
50
1 000
>
100
2 000
>
200
5 000
>
500
10 000
>
1 000
∞
Terms and Conditions
REGULAMIN AUKCJI:
§ 1:
Organizatorem aukcji jest P.W. Bartoszko Bartosz Wyziński, os. Jana III Sobieskiego 6 / 60, 60-688 Poznań, NIP: 9720811731.
§ 2:
Warunkiem uczestnictwa w aukcji jest wcześniejsza rejestracja i zaakceptowanie niniejszego regulaminu.
§ 3:
Podane w katalogu ceny są cenami wywołania (w PLN). Ceną nabycia jest kwota wylicytowana do której Organizator doliczy 10% opłaty organizacyjnej.
§ 4:
Walutą aukcji jest złoty polski (PLN) i wartość wyrażona w tej walucie stanowi podstawę rozliczeń.
Preferowana formą rozliczenia należności za wylicytowane przez Uczestnika pozycje jest przelew bankowy na rachunek P.W.Bartoszko Bartosz Wyziński:
PL (mBank): 92 1140 2017 0000 4102 0740 9164
USD (mBank): PL 88 1140 2004 0000 3112 0590 9132
EURO (mBank): PL 77 1140 2004 0000 3812 1297 6892
Inne, akceptowane formy płatności to:
- GOTÓWKA do kwoty 14.999,00zł (słownie : czternaście tysięcy dziewięćset dziewięćdziesiąt dziewięć złotych), w siedzibie antykwariatu: os. Oświecenia 49, Poznań, poniedziałek – piątek 10 – 17
- wpłata przez PayPal dla użytkownika : [email protected], przy powiększeniu należnej kwoty o 4% tytułem opłaty transakcyjnej PayPal.
§ 5:
Zwycięzca licytacji jest zobowiązany do uregulowania należności za wszystkie zakupione pozycje w terminie 10 dni od daty zakończenia aukcji. Brak wpłaty w wyżej wymienionym terminie powoduje, że Organizator ma prawo rozpocząć procedurę windykacyjną i naliczanie odsetek za zwłokę. W przypadku uporczywego unikania zapłaty (powyżej 30 dni od daty zakończenia aukcji) za wylicytowane przedmioty Organizator może podjąć decyzję o anulowaniu zakupu i skierować wylicytowane przedmioty do ponownej sprzedaży. W przypadku braku wpłaty w terminie, na nabywcę przechodzi ryzyko utraty, zniszczenia lub uszkodzenia nieopłaconego przedmiotu.
§ 6:
Wysyłka wylicytowanych przedmiotów następuję bez zbędnej zwłoki, po dokonaniu przez kupującego opłaty za wylicytowane przedmioty wraz z opłatą za wybraną formę dostawy. Preferowana jest wysyłka do paczkomatów INPOST (najbliższych lokalizacją adresowi kupującego podanemu podczas rejestracji).
Inna forma wysyłki możliwa jest po uprzednim poinformowaniu Organizatora o wybraniu innego sposobu dostawy.
Odbiór osobisty w siedzibie antykwariatu : os. Oświecenia 49, Poznań jest możliwy – po wcześniejszym uzgodnieniu – od poniedziałku do piątku w godzinach 10 -17
§ 7:
Biblioteka Narodowa, Biblioteka Jagiellońska, Muzeum Narodowe i inne muzea rejestrowane mają prawo pierwokupu po cenach wylicytowanych, powiększonych o opłatę organizacyjną.
§ 8:
Organizator aukcji może wycofać pozycję przed rozpoczęciem aukcji, bez podania przyczyny.
§ 9:
Organizator aukcji nie ponosi odpowiedzialności za ukryte wady fizyczne i prawne zakupionych przedmiotów.
§ 10:
Nabywca ma prawo do złożenia reklamacji w terminie 14 dni od zakończenia aukcji.
Wszelkie ewentualne spory rozwiązywane są w pierwszej kolejności na drodze postępowania polubownego, a w przypadku braku uzyskania satysfakcjonującego obie strony rozwiązania, na drodze sądowej, zgodnie z miejscem siedziby Organizatora P.W.Bartoszko Bartosz Wyziński.
§ 11:
Uczestnik aukcji wyraża zgodę na otrzymywanie, w tym pocztą elektroniczną informacji handlowej i marketingowej od Organizatora P.W.Bartoszko Bartosz Wyziński i podmiotów współpracujących.
About the Seller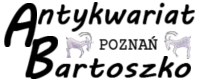 Contact
Antykwariat Poznań
os. Oświecenia 49
61-207 Poznań
Opening hours
Monday
10:00 -
Tuesday
10:00 -
Wednesday
10:00 -
Thursday
10:00 -
Friday
10:00 -
Saturday
Closed
Sunday
Closed