Crystal glass, nickel-plated metal; overall height 33 cm.
Hammer price without Byuer's Premium
98 EUR
Views: 13 | Favourites: 0
Date
07 October 2023 CEST/Warsaw
Lots bidding
Bids can be placed on selected lots which have been previously submitted only. To submit a lot you need to click SUBMIT FOR AUCTION button next to it
Buyer's premium
20.00%
OneBid does not charge additional fees for the bidding.
Bid increments
1
>
50
1 000
>
100
2 000
>
200
5 000
>
500
10 000
>
1 000
30 000
>
2 000
100 000
>
5 000
200 000
>
10 000
500 000
>
20 000
1 000 000
>
50 000
∞
About the Seller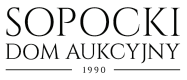 Contact
Sopocki Dom Aukcyjny (Gdańsk)
ul. Długa 2/3
80-827 Gdańsk
Opening hours
Monday
08:30 - 16:30
Tuesday
08:30 - 16:30
Wednesday
08:30 - 16:30
Thursday
08:30 - 16:30
Friday
08:30 - 16:30
Saturday
09:00 - 13:00
Sunday
Closed