253
Vase, Blumen Girlanden, Rosenthal, Philipp Rosenthal, 1929.
Estimations: 65 - 87 EUR

porcelain, height 17 cm, signed with trademark and Modell von Ph. Rosenthal
Hammer price without Byuer's Premium
76 EUR
Lots bidding
Bids can be placed on selected lots which have been previously submitted only. To submit a lot you need to click SUBMIT FOR AUCTION button next to it
Buyer's premium
20.00%
OneBid does not charge additional fees for the bidding.
Bid increments
1
>
50
1 000
>
100
2 000
>
200
5 000
>
500
10 000
>
1 000
30 000
>
2 000
100 000
>
5 000
200 000
>
10 000
500 000
>
20 000
1 000 000
>
50 000
∞
Terms and Conditions
Regulamin aukcji dostępny na: https://www.sda.pl/regulamin,26,pl
Polityka prywatności SDA: https://www.sda.pl/polityka-prywatnosci,27,pl

About the Seller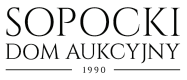 Contact
Sopocki Dom Aukcyjny (Warszawa)
ul. Nowy Świat 54/56
00-363 Warszawa
Opening hours
Monday
11:00 - 19:00
Tuesday
11:00 - 19:00
Wednesday
11:00 - 19:00
Thursday
11:00 - 19:00
Friday
11:00 - 19:00
Saturday
11:00 - 15:00
Sunday
Closed