520
Talerz dekoracyjny, Hanau, XVIII w.
Lot description
Estimations: 546 - 764 EUR

fajans glazurowany, dekoracja floralna malowana kobaltem, śr. 40 cm
Lots bidding
Bids can be placed on selected lots which have been previously submitted only. To submit a lot you need to click SUBMIT FOR AUCTION button next to it
Buyer's premium
20.00%
OneBid does not charge additional fees for the bidding.
Bid increments
1
>
50
1 000
>
100
2 000
>
200
5 000
>
500
10 000
>
1 000
30 000
>
2 000
100 000
>
5 000
200 000
>
10 000
500 000
>
20 000
1 000 000
>
50 000
∞
Terms and Conditions
Regulamin aukcji dostępny na: https://www.sda.pl/regulamin,26,pl
Polityka prywatności SDA: https://www.sda.pl/polityka-prywatnosci,27,pl

About the Seller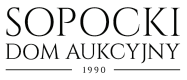 Contact
Sopocki Dom Aukcyjny (Sopot, Sztuka dawna)
ul. Bohaterów Monte Cassino 43
81-768 Sopot
Opening hours
Monday
11:00 - 18:00
Tuesday
11:00 - 18:00
Wednesday
11:00 - 18:00
Thursday
11:00 - 18:00
Friday
11:00 - 18:00
Saturday
11:00 - 15:00
Sunday
Closed